ARINC Direct partners with FlightAware to offer live flight tracking on ARINC Direct's web site
---
Monday, October 22, 2012 02:00PM
Last updated 4 years ago.
---
During the 2012 NBAA Meeting & Convention next week, ARINC Direct (Booth No N2155) will announce a new partnership with FlightAware to provide enhanced live flight tracking information as a further evolution to its suite of business aviation services. Effective immediately ARINC Direct, the leading global aviation software and data services provider, will exchange information with FlightAware to provide customers with a secure and customized FlightAware interface on ARINC Direct's website.
FlightAware was the first in the market to offer web-based flight tracking of private and commercial aircraft. Today it boasts the largest flight tracking website in the world with over three million users. ARINC Direct customers will now seamlessly be able to benefit from access to FlightAware's live web-based flight tracking and fleet maps, including streaming live flight and map updates, worldwide enroute navigation data and a host of other maps and overlays. Messaging the aircraft, worldwide position and flight plan display, arrival and departure information, flight history and airport delay information are also included.
"We've been working with FlightAware over the past several months to combine their sophisticated aircraft tracking algorithms and display with ARINC Direct's datalink and flight plan information. We're very excited about this new partnership, as it will enable us to deliver many more flight tracking features and improved aircraft location/event notifications and alerts, including enhanced support for mobile devices" said Steve Corfman, ARINC Direct Sr. Manager.
Daniel Baker, CEO of FlightAware, commented, "We are very proud to partner with ARINC Direct, the largest provider of flight operations services to business aviation aircraft operators. We are confident that their customers will really benefit from FlightAware's industry-leading flight tracking technology for live, worldwide flight tracking which supports and streamlines their flight operations."
ARINC Direct customers will be provided with worldwide flight tracking on a customized FlightAware display. The current "Track Flights" service on ARINC Direct's website will be completely replaced with the FlightAware powered tracker.
FlightAware primarily provides services and data to aircraft and airport operators, as well as other aviation organizations to assist in their operations. It also offers enterprise services and tools to aircraft operators worldwide as well as flight tracking systems to airports in North America, Europe and Australia.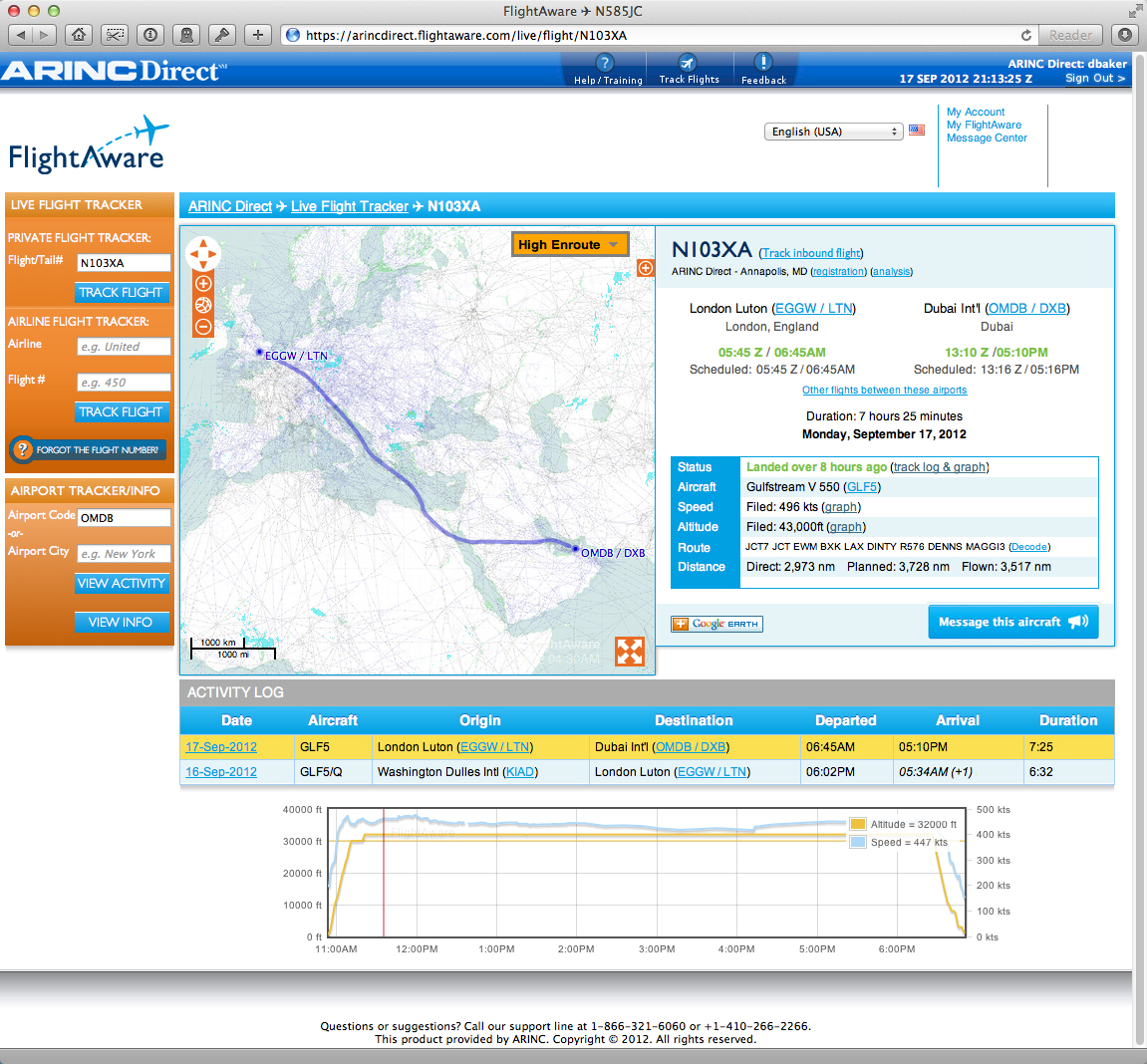 About FlightAware

FlightAware (flightaware.com) is the largest flight tracking, flight data, and flight planning company in the world. FlightAware was the first company to offer free flight tracking services for both private and commercial aircraft in the United States, Canada, and Australia. FlightAware provides flight tracking, flight data, and flight planning services in over forty countries to over three million people each month. Founded in 2005, FlightAware is privately held and has offices in Houston and New York.
About ARINC

ARINC Incorporated, a portfolio company of The Carlyle Group, provides communications, engineering and integration solutions for commercial, defense and government customers worldwide. Headquartered in Annapolis, Maryland with regional headquarters in London and Singapore, ARINC is ISO 9001:2008 and AS9100 certified. For more information, visit the web site at www.arinc.com.